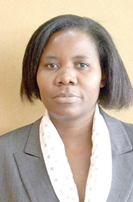 My name is Estelle Nuka of EWN Consulting & Training which is based in Malawi Africa. I have known Lourdes for almost a year now. I have worked with her in several areas including the following:
1. Triad Coaching: Lourdes was part of our triad coaching for three months as part of our training with Canfield Group. We were having meetings every fortnight and Lourdes was a very useful member of this group. She was able to coach me and my colleague in several different areas where I needed help, in the process helping me achieve my goals much earlier than planned  Because of her coaching, I was able to do so many things that I would not ordinarily have been able to achieve.
2. Lourdes was part of my group for our group presentation during our training with the Canfield group. As we prepared for our presentations, I saw a lot of maturity and organisation skills from her. Our group did a fantastic presentation and Lourdes played her part very well. The way she presented, proved to me what an exciting presenter/trainer she is.
3. Mastermind group: I am in the same mastermind group with Lourdes. This is a group of six comprising of individuals from six different countries. We meet every fortnight. I have benefitted tremendously from the support that I have received from Lourdes. Apart from helping me, she has always been helpful to the other members of the group as she offers very well though advice on any issue that she has to deal with.
4. Lourdes is a Pilot professionally, but she has a very wide knowledge on a lot of different issues. She is very intelligent and does a lot of research thereby ensuring that she widens her knowledge as much as she can. I was very impressed with the help she gave me as I was producing my advertising materials for my workshops. She even helped with the editing of the final product. I highly recommend her as a coach in the field of success as well as advertising. This based on what she did for me and also her production during the "come as you will be party."
It is always a pleasure to work with Lourdes whether in a group set up or on a one on one basis. I THEREFORE HIGHLY RECOMMEND HER to anyone who may be interested in working with her. Her pricing is worth the value of what she offers.
Estelle Nuka
EWN Consulting & Training
Malawi, Africa
Mi nombre es Estelle Nuka de EWN Consulting & Training con base en Malawi, África.
Conocí a Lourdes hace casi un año. He trabajado con ella en diferentes áreas, incluyendo las siguientes:
-1 Triad Coaching: Lourdes formó parte de mi grupo durante los tres meses de duración de nuestro entrenamiento en The Canfield Group. Tuvimos reuniones periódicas y fue un miembro muy útil en el grupo. Fue capaz de dirigir mi Coaching y el de mi colega en distintas aéreas en las que necesitamos ayuda, en el proceso alcancé mis objetivos mucho antes del tiempo estipulado debido a su estilo de Coaching y fui capaz de hacer muchas cosas que no hubiese sido capaz de alcanzar sin su ayuda.
2- Lourdes formó parte de mi equipo en las presentaciones de grupo durante nuestro entrenamiento en el Canfield Group. Durante este proceso vi mucha madurez y habilidades organizativas en ella. Nuestro grupo hizo una presentación fantástica y Lourdes ejerció su parte muy bien. De la forma en que lo hizo demostró ser una presentadora y entrenadora emotiva.
3- Mastermind Group: formo parte del mismo grupo Mastermind que Lourdes. Un grupo de seis individuos de seis países diferentes. Nos reunimos de manera periódica. He obtenido tremendos beneficios del apoyo que he recibido de Lourdes. Aparte de ayudarme, ella siempre ha sido de mucha ayuda para otros miembros del grupo, ya que ofrece muy buenos consejos en cualquier tema que tenga que tratar.
4- Lourdes es Piloto profesional, pero además tiene muchos otros conocimientos. Es muy inteligente y recaba tanta información como sea necesaria para ampliar sus conocimientos. Me sorprendió mucho la ayuda que me ofreció preparando mis productos de publicidad para mis seminarios. Incluso, me ayudó editando el producto final. La recomiendo altamente en las áreas de Coaching del éxito  y publicidad. Me baso en todo lo que hizo por mí y también en la producción de su fiesta «Ven como serás».
Es siempre un placer trabajar con Lourdes, ya sea en grupo o de forma individual. Por tanto, la RECOMIENDO ALTAMENTE a cualquiera interesado en trabajar con ella. Su tarifa siempre resultará baja en comparación a cuanto ofrece.
Estelle Nuka
EWN Consulting & Training
Malawi, África